14 Oct

More than just "normal" Fun Activities for Children with Special Needs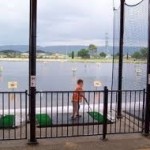 Looking for real cool fun activities for your child with special needs?
How about Aqua Golf?
AQUA GOLF at the back of Penrith Panthers Leagues Club is wheelchair accessible, has an accessible toilet and disabled parking spaces. This is where you can hit golf balls into a lake on purpose! They have tables and BBQ, so you can bring your own food and have a picnic under sheltered areas. They provide buckets of balls at heavily discounted rates and you have free use of their golf clubs. It's a great family fun day out for everyone!
Want something even more exciting? What about Ice Skating? SYDNEY ICE ARENA at Bulkham Hills has disabled parking under the building with lift access to the rink and cafe. Here wheelchairs are allowed on the ice at general sessions, but remember anti-tips for your wheelchair! There is a large disabled toilet facility and a lovely grassed area in front of the man made lake outside the rink that is perfect for a picnic.
Finally we should mention Mini Golf. PUTT PLANET at Miranda is a wheelchair accessible mini golf center. Its theme is a flight from Miranda to Mombasa, where you putt through bustling market places, homes and even the sewer of Old Mombasa. Although it does not have disabled parking, there are two parking spaces on the side of the building that are easier for transferring from and to a wheelchair. There is a disabled restroom. This is probably one of the most accessible mini golf centers you will find!