09 Jan

How much calcium is enough?

More than half of all Australian adults do not meet their recommended daily intake for calcium. How much calcium you need each day depends on your age and gender. Below is the table that shows the Recommended Dietary Intake for Calcium
 
Recommended Dietary Intake for Calcium for Australians: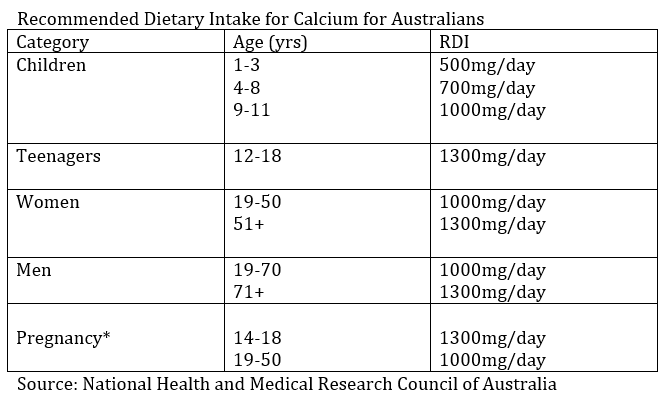 Good Sources of Calcium
Of course, milk and other dairy products are good sources of calcium, and most contain added vitamin D, which is also important for bone health. But don't overlook other healthy calcium-fortified foods, including orange juice, soy products, and bread.
Minding Your Milk
Milk and other dairy products are among the best and most convenient sources of calcium you can find. But who should get what kind of milk and when?
Infants younger than 1 year old shouldn't have regular cow's milk because it doesn't have the nutrients a growing baby needs. Stick with breast milk or infant formula as your baby's major source of nutrition during the first year.
Kids between 1 and 2 years old should have whole milk to help provide the dietary fats they need for normal growth and brain development. But they shouldn't have more than 16 ounces a day.
After age 2, most kids can switch to low-fat or nonfat (skim) milk.
The good news is that all milk — from skim to whole — contains about the same amount of calcium per serving.